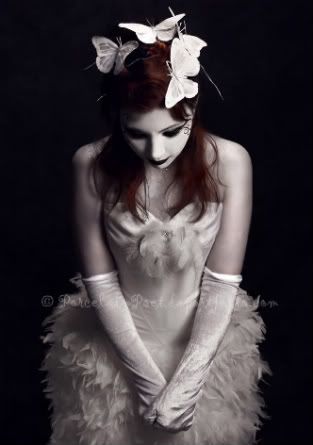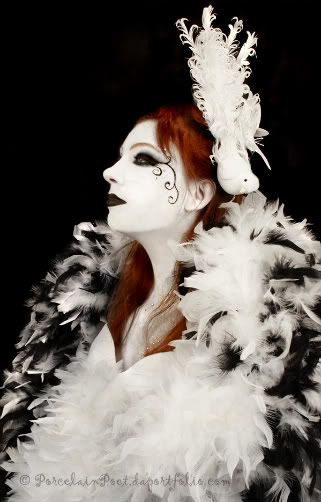 I'm finally posting here again after much encouragement from others to start writing about my shoots. Here's my Butterfly, Bird shoot... because it's weird and I don't know what to call it!
A little bit of introduction....
This was a spontaneous, last minute shoot which we threw together. I worked with 2 of my best friends, Candy and Sara. Candy was the willing model. She hasn't done much modeling but I encouraged her to look into it more if she's interested because she impressed me with her patience and ability to take direction (2 important characteristics you need if you want to model). So perhaps we'll be seeing her on ModelMayhem in the near future. Sara who already has great taste in clothing and talent at doing makeup, acted as the makeup artist, stylist and general assistant. She also gave Candy some great direction during the shoot (because I zone out when I'm taking photos and forget to give direction sometimes). Sara sort of came up with the makeup on her own, with a little bit of suggestion from me (white face, black eyes and lips). We wanted it to sort of match the dress and look bird like. The butterflies in the hair were just random and we thought they looked neat. =P
For this shoot, it was all inspired by the dress seen in the photos. The dress was created by Victoria of Victoria's Bridal (I have yet to meet her, but she's a friend of Sara). Victoria saw some of my work and was kind enough to let us borrow some of her dresses. She creates custom designs and not so average wedding gowns. I knew as soon as my friend Sara showed the feathery dress to me I had to use it for something. So Sara and I went on a trip to Michael's craft store and picked up some feathers, butterflies and other fluffy, glittery cutesy things. And Sara had a seizure of excitement over everything in the store which was glittery. :)
We had a lot of fun and I realized it's quite rewarding to get to work with close friends on a shoot because it's so much more relaxed. With friends I don't have to worry about awkward silences or trying to appear more professional (of course I want to make a good impression when working with newcomers). I think this is the true meaning of "personal project" and that's exactly what I've told myself I'm going to do more of for now on.
Here are some behind the scenes shots (no editing):
Snap shot of what the bathroom counter looked like while Sara was doing makeup.
Yes, Sara is wearing a red wig. Why? Because she can.
Candy after the makeup was finished
Test Shot!
Candy and I after the shoot. I make stupid faces.
Sara and Candy after the shoot.
If anyone has any questions, feel free to ask. :)